Breaking Drone Defenses: Using Chicken Wire to Defeat Net Projectile-Based Products
The majority of practical drone defense products/solutions currently available use a net projectile of some kind.  These nets are typically very light weight, and wouldn't be heavy enough to drag down their intended targets.  Instead, they are designed to get tangled in the propellers of the 'rogue drone' being targeted in order to disable it (or make it crash).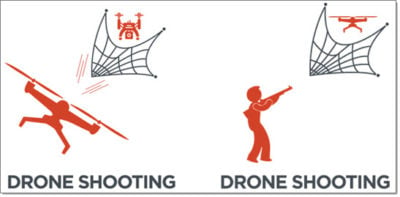 We successfully demonstrated how to beat most drone defense products that rely on such a net projectile, simply by building a protective bubble around our drones (using only about $16 of chicken wire and a few zip ties).
However, we did identify one net projectile-based drone defensive product that did end up beating our chicken wire protective bubble -- namely the 12 gauge shotgun anti-drone net shells by SKYNET. These effective, yet extremely dangerous drone defense projectiles basically blew a shotgun hole in our cage.

SKYNET 12 Gauge Anti-Drone Net Shells - Shotgun Holes in our Chicken Wire Cage


While they do work, the dangerous nature of shooting even small metal pieces out of a shotgun does end up limiting significantly the practicality of when/where you can use the product in real life.
For updates and more drone security related info, see our main project page at:
Subscribe to Bishop Fox's Security Blog
Be first to learn about latest tools, advisories, and findings.
Thank You! You have been subscribed.